Pradosham.com © All Rights Reserved
Shivararthi festival for 9 days celebrated attracting millions of pilgrims and devotees 8th day ofMahashivaratri festival is Brahmotsav.


Tripuradahana - an enactment of Lord Shiva burning the three worlds is performed during  Kruthika Poornima (Karthigai Pournami). Devotees decorate their houses, light lamps and  draw "Rangoli" in front of their houses.


Kamadhenu Utsav - Chithirai 18 (Mesha Masam), Datheeshigo Utsav (Shravan 9), Seemollanga Manotsav (Ashvini 10), Ganga Vivaahotsav (Ashvini 14), Gowri Vivaahotsav (Vruschikam 1). All these three are very important festivals.


Big chariot is drawn during Shivarathri Brahmotsav while small chariot is drawn during First  Vishaka Amavasya, Mahavadyam 11 to 30, Ratha Sapthami days.


Mahavadyam 14, Phalguni 2, Kruthika 15 - during these 3 days, they erect four float-raft together and place Mahableshwar with Koteeswar Vigrahas and perform float-utsav on the Kotitheertham. On this festive occasion, devotees line up lip up lamps added with fire-works on the tank's banks.


Festivals for other deities are performed between 5th and 10th Kruthika month.  Besides this, upon the request of devotees, small-chariot is drawn sponsored by individuals.


Panchamrutha, Baalapanchamrutha, Ekadara, Rudra, Shatarudra, Maharudra, Athirudra, Vilva Archana, Koti Archana are conducted and allowed by temple authorities based on special request by visiting devotees.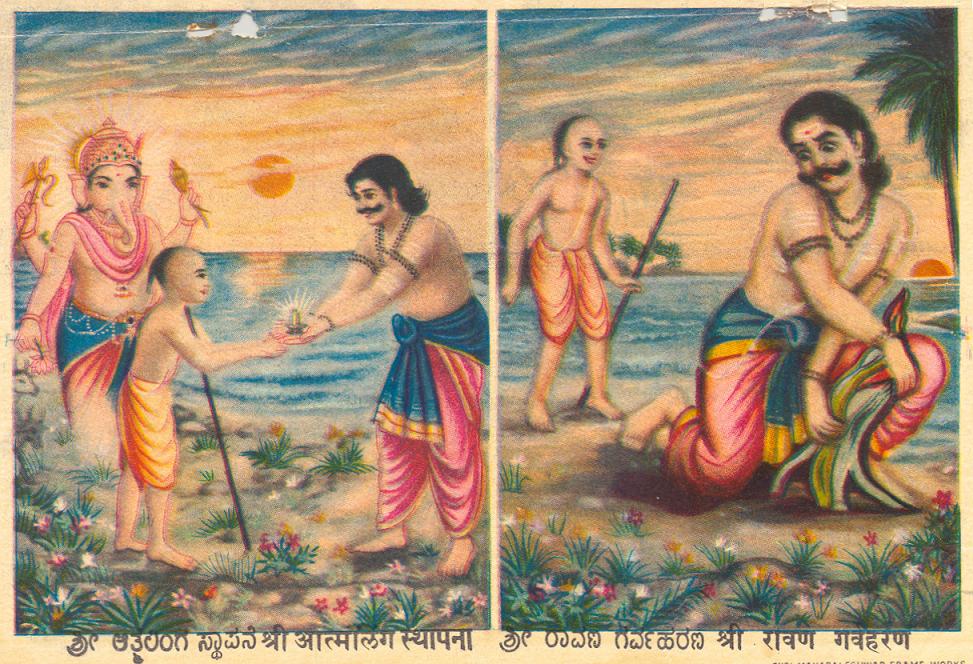 | | |
| --- | --- |
| Morning 6:00 am temple opens, closes at 12:30 noon | Evening 5:00 pm to 8:30 pm |
For all temple rituals and other religious performance activities may contact : Administrator, Shri Samsthana Mahabala Deva, Gokarna, PO : Gokarna Uttara Kannada, Karnataka, India - Email: info@srigokarna.org and phone: +91-9449595208, temple Telephone: 08386-256167, 257167.   
How to Reach and Where to Stay


You can reach from Karwar : 60 kms, Kumata: 32 Kms, from Bangalore: 460 Kms, from Mangalore: 225 Kms, from Konkan Railway station 10 kms. To Book your train,
Private buses also ply and details are as follows :-
SRI KUMAR, Private Bus: 2+1 sleeper, 7.15 pm from Gokarna and reaching at Bangalore at 6.30 am - Ph: 9449710485
SRL Travels, Lalbhag West Gate, RV Road, Bangalore : Ph: (080)26677142, (080)22975440
Route: B'Lore, Shivmoga, Sagar, Honnavar, Kumta, Gokarna.
VRL, 2+1 Sleeper, 7.30 pm from Jayanagara 9th Block, B'Lore (080)22971272 - www.vrllogistics.com
VRL, 2+1 Sleeper, 7.15 pm from Gokarna
VRL Travels, Rathbeedi Gokarna,
You can also get direct buses to Gokarna from Ankola or Kumta or take tempos. Buses from Karwar at  7 am, 8 am and 4 pm available.  Direct bus from Goa (5 hours) availabel at 8 am.
There is a direct bus leaving to Mangalore (about 253 km) at  7 am and from Bangalore and Mysore varieties of buses available. 
TRAIN   book your ticket through internet----->  http://www.irctc.co.in
Train services from various destinations - check and book now......
http://indiarailinfo.com/departures/1776
 or www.southernrailway.org - www.konkanrailway.com
TRAIN FROM VARIOUS PLACES :  GOKARNA ROAD RAILWAY STATION PHONE NUMBER :(CODE: 08386) 279487
Konkan Railway passes very close to Gokarna, Express trains do stop at Karwar, Kumta (23 km) and Ankola (25 km).  The passenger train stops at Gokarna Road (10 km).  Buses available from Gokarna at 11 am to meet the train going to Margao at 11.30 am.  Gokarna Road Station is 9 km from the town of Gokarna. 
PRADOSHAM WISHES YOU A HAPPY SPIRITUAL JOURNEY.......OM NAMAH SHIVAYA...
Gokarna International (088386 56622),
on the main road, has modern rooms with hot water and a nice balcony for Rs 250/300 up to Rs 750 for an A/C deluxe room. It overlooks a palm tree grove. It is a good place. Checkout time up to 4 pm. Recommended. 
OM LODGE (56445) has basic rooms with bath Rs.175 and A/c Rs.400
KSTDC's Hotel Samudra (TEL: 56236),
On a hill overlooking the sea 2km from town, has clean rooms with bath for Rs 150 for a double and Rs 250 for a room with four beds.
New Prasad Nilaya (56250, 57135), about half a 
km from temple, is a modern place with clean rooms with bath for Rs.200 and 250.  Hot water available.
PREMA - this is a decent pure Veg. eatable place, located across from the Main Shiva temple
HOTEL PAI - Main Street has good, competitive vegetarian meals and Dosas/snacks.
SHRI RAGHAVENDRA : Good veg. food
HOTEL VINAYA : on the Main street, veg. food.
VISHWA NIWAS : Recommended for breakfasts
SHRI SHAKTI COLD DRINKS: Car street, near temple, Fresh Juice, homemade cheese, breads and cakes
Places where you can eat
Lodging Details